Infused herbal oils are infinitely useful and very simple to prepare.
Once made they can be stored well and used to make salves/balms and creams.
Many herbs can be used to make herbal infused oils and all have their unique actions and uses.
Some include oils of Calendula, Comfrey, Marshmallow , Nettle seed, and much more.
Here is a simple preparation of an infused oils using Calendula flowers.
Calendula is a wonderful remedy. It is antiinflammatory, antiseptic,anti fungal. It helps to restore the tone of the gut and its astringent qualities lends it to many other uses.
The oil can be made into an aqueous cream and used to hydrate dry skin lesions as seen in eczema for example. Its antiseptic qualities makes it useful to heal wounds cuts burns and bruises.
The dried Calendula flowers are placed in a Bain Marie and high grade vegetable oil poured over them.
Below water is placed in the Bain Marie which is gently simmered for 3-4 hours. The flowers macerate in the oil imparting their medicinal properties and colour to the oil.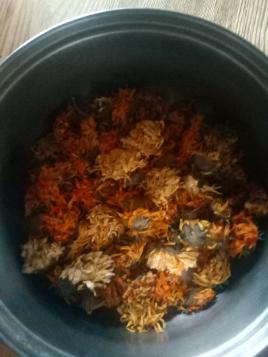 The second photo shows the flowers gently macerating in oil for 3-4 hours.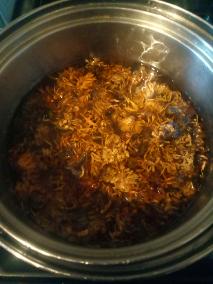 After this the oil is strained through a muslin cloth, draining slowly into a stainless steel container. This process may take an hour or so.and the flowers are pressed gently ensuring all the oil drains through the muslin.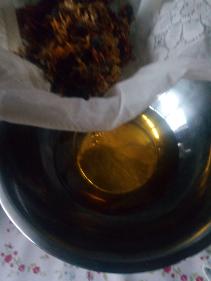 After the oil is drained , it is bottled and labelled and stored away from heat and light.
Below is the strained oil of Calendula flowers.
The oil may be used later to make salves and creams .